ZUCKED AGAIN: Passing the Censorship Buck, Facebook SAYS Facebook's USERS, Not Facebook, Will "Rank" News Sites' "Trustworthiness" Starting YESTERDAY
Fox News Joe Tacopino May 2, 2018
Facebook CEO Mark Zuckerberg said Tuesday the social ­media behemoth has begun to rank news Web sites based on their trustworthiness.
The move comes amid concerns from legislators and Facebook ­users that the platform was exploited to spread misinformation during the 2016 US presidential campaign.
"Common ground is important," Zuckerberg told a group of industry insiders at Facebook's F8 conference in San Jose, Calif.
"We're trying to have our community tell us what is quality and then feeding that into the rankings and make sure that the stuff people think is broadly trustworthy is getting promoted."
Zuckerberg said Facebook has began asking users questions to gauge how they view certain news sites.
"You can get this very easily by just asking people a simple survey," he said. "We need to find ways to make it so people can tell us and then incorporate that into rankings."
"I view our responsibility in news as two things: Make sure people can get trustworthy news in our platform and that we're doing our job to help build a sense of common ground in society.
"We also view ourselves as having a responsibility to support the institution of journalism . . . making it so that more journalists can be funded and have jobs and do investigative work."
Zuckerberg addressed the issue of fake news spread on Facebook by outside agents and how it is constantly adapting in an ­attempt to combat it.
"You never fully solve security. It's always an arms race," he said about the penetration of the site by bad actors.
"Whatever the Russians are gonna try to do, or the fake-news trolls try to do, they're gonna keep on coming at us and attempting to do other things, so we're gonna be working on this forever."
Zuckerberg also said his company had been prepared for traditional hacking and malware attacks but was caught off-guard by the "kind of coordinated information operations" that took place during the election season.
He noted how Facebook has ­already stifled attempts at interference in elections since the race between Donald Trump and Hillary Clinton.
"Since the 2016 US election, there was the French presidential election, the German election, the Alabama special election last year," Zuckerberg added.
"And in those cases, we've deployed [artificial-intelligence] tools that have successfully taken down tens of thousands of accounts that we believe are bad actors and just fake-news trolls."
Zuckerberg also stressed how users need to feel free to communicate openly.
Facebook Is Shrinking Fake News Stories Because Nothing Else Has Worked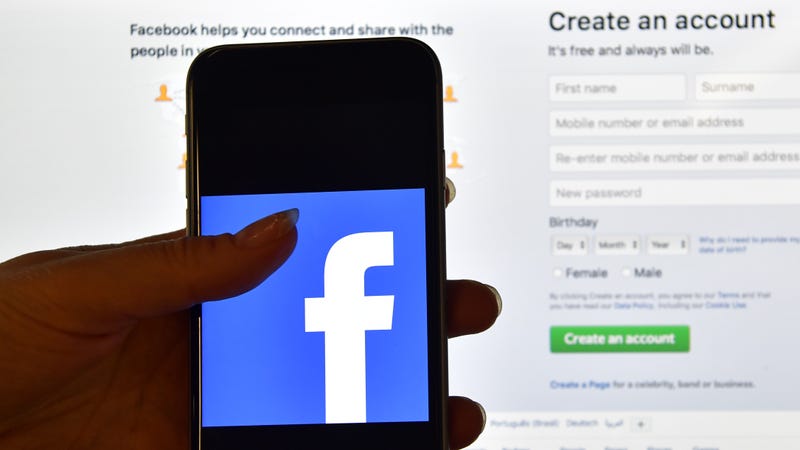 Gizmodo AJ Dellinger April 30, 2018
For what feels like the umpteenth time, Facebook is introducing another new plan to fight against the scourge of fake news that populates the platform, this time by making shrinking the size of links to bogus claims and hoaxes. It probably won't work because people are just the worst.
Facebook unveiled its latest plan Friday at its Fighting Abuse @Scale event in San Francisco. According to TechCrunch, the company will attempt to draw less attention to fake news stories by giving them a smaller billing in the newsfeed. It will also populate a list of fact-checking articles that debunk the phony reports.
The system will supposedly work like this: When a link is shared on Facebook, machine learning algorithms will scan the article for any signs of false information. If it senses that a story may be fake, the system sends it off to third-party fact checkers to look into the validity of the article.
If fact checkers determine a story is fake, they flag it for Facebook. The social network then shrinks the link preview in the newsfeed so it won't draw the eye the way a standard news story is supposed to. A story from a trusted publisher will appear 10 times larger, and its headline will get its own space, according to TechCrunch.
The new measures at least begin to break the uniformity that Facebook gives to everything shared on its platform—an issue that, while creating a consistent visual appearance, also adds legitimacy to fake news stories by making them look nearly identical to real ones in the newsfeed.
Matt Klinman, creator of the app Pitch, offered one of the more cogent criticisms of Facebook, calling the platform "the great de-contextualizer" in an interview with Splitsider earlier this year. While his comments applied to how Facebook has damaged the business of comedy in particular, his critique applies to the news as well.
An article from something like, I don't know, Rebel Patriot News written by a Macedonian teen or something looks exactly the same as a New York Times article. … There's a reason that Mad magazine looks different from Vanity Fair. They need to convey a different aesthetic and a different tone for their content to really pop.
The plan is also basically the exact opposite of Facebook's starting point for fighting off fake news stories. The company initially tried slapping a big, red warning label on debunked articles in an attempt to warn people not to read them. That made people who believed the stories indignant and resulted in the articles being shared even more in defiance of Facebook's system.
While this latest effort seems to be significantly better approach than anything else Facebook has tried—mostly tweaks to its newsfeed algorithm that no one fully understands—it still probably won't accomplish much.
Firstly, it does next to nothing to address memes and videos that are shared on the platform. Articles can get fact-checked and Facebook can create an automated system to produce factual information to counter a fake news story. Thus far, it has not been able to do the same for the endless amount of memes that anyone with a conservative family has undoubtedly seen sprinkled about their newsfeed.
Secondly, people just seem to like interacting with fake news because it gets a rise out of them. A study published in Science earlier this year found that falsehood spread online with an ease that real news stories don't. Researchers reported that hoaxes and rumors reach more people and spread much faster than stories from reliable sources, primarily because human nature makes us susceptible to giving in to feelings of fear, disgust, and surprise—all emotions that fake news stories are often crafted to invoke.
Hummingbirds Use Tails to Attract Mates
4/12/18 11:56am
As the study notes, things like reactions and comments—both measures Facebook uses to determine if people are having "meaningful interactions" with content—only incentivize people to participate and share stories, so perhaps Facebook's next step is to hide the number of reactions or comments a fake story has received. But even that won't solve the real problem: people.
'This has been an intense year': Mark Zuckerberg admits fixing privacy issue is an 'arms race,' as he reveals plan for Clear History tool that will let users see what sites are tracking them and delete the data
Facebook CEO Mark Zuckerberg unveiled the firm's new 'clear history' feature
The tool lets users see which sites are tracking them and delete the stored data
Zuckerberg unveiled the tool at the firm's F8 conference, where he also called 2018 an 'intense year' as Facebook deals with the fallout from its privacy scandal
Facebook wants to give its users more control over their data.
During the firm's F8 developers conference, Facebook CEO Mark Zuckerberg unveiled a new tool coming to the platform that lets users wipe clean any data that tracks websites they've visited.
Called 'clear history,' the feature also scrubs any records of what ad's you've clicked on while logged into Facebook.
During the F8 developers conference, Facebook CEO Mark Zuckerberg unveiled a new tool coming to the platform that lets users wipe clean any data that tracks websites they've visited
Zuckerberg detailed the 'clear history' feature in his F8 keynote speech on Tuesday, after revealing it in a Facebook post earlier Tuesday morning.
He likened the tool to how users can delete their cookies and history in a web browser.
'We're building a version of this for Facebook too,' Zuckerberg explained.
'It will be a simple control to clear your browsing history on Facebook — what you've clicked on, websites you've visited and so on'.
In a blog post on the company's website, Facebook's vice president and chief privacy officer, Erin Egan, noted that the firm will only collect aggregated data on users if they turn off the feature.
'This feature will enable you to see the websites and apps that send us information when you use them, delete this information from your account, and turn off our ability to store it associated with your account going forward,' Egan explained.
Called 'clear history,' the feature also scrubs any records of what ad's you've clicked on while logged into Facebook. The tool is part of Facebook's 'arms race' to protect user privacy
To start, the clear history tool will allow users to remove any data collected on them by 'websites and apps that use Facebook's ads and analytics tools'
It's a noteworthy announcement by Facebook, given that the firm makes vast sums of money from advertisers who want to take advantage of its highly sophisticated user targeting services.
To start, the tool will allow users to remove any data collected on them by 'websites and apps that use Facebook's ads and analytics tools'.
This likely includes Facebook's Audience Network, which promotes ads to users based on their browsing habits.
It means brands can direct marketing messages to you based on your interests, even when you're not on the site, via other company's apps and mobile websites.
They can collect information ranging from your IP address to the websites you have visited, the length of time you spent on a website and in what sequence pages were accessed.
Zuckerberg said the clear history tool is something privacy advocates have wanted for a long time.
'It's something privacy advocates have been asking for — and we will work with them to make sure we get it right,' he added.
'One thing I learned from my experience testifying in Congress is that I didn't have clear enough answers to some of the questions about data'
'We're working to make sure these controls are clear, and we will have more to come soon,' Zuckerberg said.
At F8, Zuckerberg also described 2018 as an 'intense year' for the social network, but promised to take a 'broader view' of the company's responsibilities.
'This has been an intense year. I can't believe we're only four months in,' Zuckerberg explained.
HOW DOES FACEBOOK COLLECT DATA ON USERS WHEN THEY VISIT OTHER SITES?
Facebook has been embroiled in a massive data scandal after it was revealed that at least 87 million users' data was harvested without their knowledge.
Much of the attention has been cast on how the firm collects data when users are on the site.
In a new blog post, Facebook has provided further details on how it tracks users when they're off of the site.
It also means non-Facebook users are also tracked as they browse the web.
Here are some of Facebook's services and plugins that collect data on users when they're not on the site:
Social plugins
Many sites have 'Like' and 'Share' buttons that connect to Facebook, while many apps or sites use 'Facebook login,' which allows you to log into another site or app using your Facebook account
This collects your IP address, browser and operating system information and the address of the website or app you're using.
Facebook Analytics
The firm says it helps websites and apps 'better understand' how people use their services.
It gives websites and apps information on which users are visiting their site, based on demographics like age, gender and location, as well as what they click and how much time they spend on the website.
This collects your IP address, browser information and cookies.
Facebook ads and measurement tools
These enable websites and apps to show ads from Facebook advertisers, run their ads on Facebook or elsewhere and glean more data on ad campaigns.
Facebook's main services for this are the Facebook Audience Network, Facebook Pixel and Facebook ad measurement.
'We're optimistic about the future. We have real challenges to address, but we have to keep that sense of optimism too.
'It's not enough to just build powerful tools. We have to make sure they're being used for good and we do and they will,' he added.
Zuckerberg referred to the recent data privacy scandal involving the site and Cambridge Analytica as a 'major breach of trust'.
'We need to make sure this doesn't happen again', he said of the Cambridge Analytica incident, adding that it was important for the company to keep building new privacy tools as the issue would never fully be solved, calling it an 'arms race'.
The Facebook founder also spoke about the company's wider plans to introduce new tools to find and remove malicious content and accounts, as it looked to "protect election integrity" as well as data privacy among users.
Facebook has been feeling the heat ever since it was revealed last month that more than 87 million users' data had been unknowingly shared with research firm Cambridge Analytica
Last month, Facebook boss Mark Zuckerberg appeared on Capitol Hill for a pair of high-stakes hearings, where he faced pointed questions about Facebook's massive data scandal
WHAT IS THE CAMBRIDGE ANALYTICA SCANDAL?
Communications firms Cambridge Analytica has offices in London, New York, Washington, as well as Brazil and Malaysia.
The company boasts it can 'find your voters and move them to action' through data-driven campaigns and a team that includes data scientists and behavioural psychologists.
'Within the United States alone, we have played a pivotal role in winning presidential races as well as congressional and state elections,' with data on more than 230 million American voters, Cambridge Analytica claims on its website.
The company profited from a feature that meant apps could ask for permission to access your own data as well as the data of all your Facebook friends.
The data firm suspended its chief executive, Alexander Nix (pictured), after recordings emerged of him making a series of controversial claims, including boasts that Cambridge Analytica had a pivotal role in the election of Donald Trump
This meant the company was able to mine the information of 55 million Facebook users even though just 270,000 people gave them permission to do so.
This was designed to help them create software that can predict and influence voters' choices at the ballot box.
The data firm suspended its chief executive, Alexander Nix, after recordings emerged of him making a series of controversial claims, including boasts that Cambridge Analytica had a pivotal role in the election of Donald Trump.
This information is said to have been used to help the Brexit campaign in the UK.
'We need to take a broader view of our responsibilities. It's not enough to just make powerful tools, we need to make sure that these tools are used for good,' he said.
'We're hard at work making sure people don't misuse our platform.'
Zuckerberg appeared to make light of his recent testimonies during his F8 keynote, showing video from his testimony as an example of how Facebook users could watch and react to live video within its app.
During his keynote, the social network boss also attempted to strike an optimistic tone with the developers in the audience, telling attendees the site was committed to design technology to 'help bring people closer together'.