What could possibly go wrong?:
Scientists Create First Human-sheep Hybrids – Paving the Way for Organs to Be Grown in Animals for Transplant Even Providing a Cure for Diabetes
The Stanford University project grew embryos which had sheep and human cells
Scientists plan to implant stem cells into sheep and hope human organs grow 
The successful Stanford University project could even open the door to finding a cure for type 1 diabetes by creating healthy pancreases to regulate blood sugar.
While scientists have previously developed human-pig hybrids, sparking excitement that they could use them grow human organs, no team has been able to take it to the next step.
But Stanford's team, which has already successfully transplanted pancreases into mice, is tipped to be the first after now that they have produced a human-sheep model to use.
Scientists have created the first ever human-sheep hybrids, paving the way for organs to be grown in animals which can be transplanted to humans
Scientists have created the first ever human-sheep hybrids, paving the way for organs to be grown in animals which can be transplanted to humans
'We have already generated a mouse pancreas in rats and then transplanted those in to diabetic mouse and were able to show almost a complete cure,' project lead Dr Hiro Nakuachi, a professor of genetics at Stanford, told the American Association for the Advancement of Science conference.
'It could take five years or it could take 10 years but I think eventually we will be able to do this.'
The breakthrough could also help to alleviate the global shortage of organ donors.
Around 76,000 people in the US and 6,500 in the UK are on an organ transplant list, and it can take up to five years to reach the top.
Thirty-two people die a day waiting for a life-saving organ.
The development comes less than two years after the US government said it would approve funding of these controversial experiments, but later backtracked after receiving more than 20,000 complaints from animal rights groups.
Pablo Ross, associate professor of animal science at the University of California, Davis who is part of leading the venture, admitted he harbors similar concerns.
It depends on how far the human cells roma in the animal, he said. If they spread further than intended, it could be impossible to approve for ethical reasons.
But he insisted it is one of the most promising explorations in medicine right now.
Researchers have previously developed human-pig hybrids but have not yet been able to use the process to grow human organs
'We have this amazing life-saving technology right now [with organ transplantation] but there aren't enough for everybody,' said Pablo Ross, associate professor of animal science at the University of California, Davis.
'Imagine you could grow organs in nine months to an adult size.'
We could even reach a point, he says, when these organs aren't just used to save lives but that they could circumvent other conditions like diabetes.
Transplanting organs from pig or sheep directly to humans has not been successful but researchers believe using human stem cells may be an alternative solution.
Researchers have previously developed human-pig hybrids but have not yet been able to use the process to grow human organs
To create their 'chimera' – as hybrid animal-humans are called – the team grew embryos containing sheep and human cells, and kept the surrogate animal carrying them alive for three weeks.
The team now plans to implant human stem cells into sheep embryos and hope that human DNA will be able to grow organs such as a pancreas.
It would be a world first if a human organ could be grown inside a sheep.
Scientists create human-sheep chimera with hopes of affordable organ transplants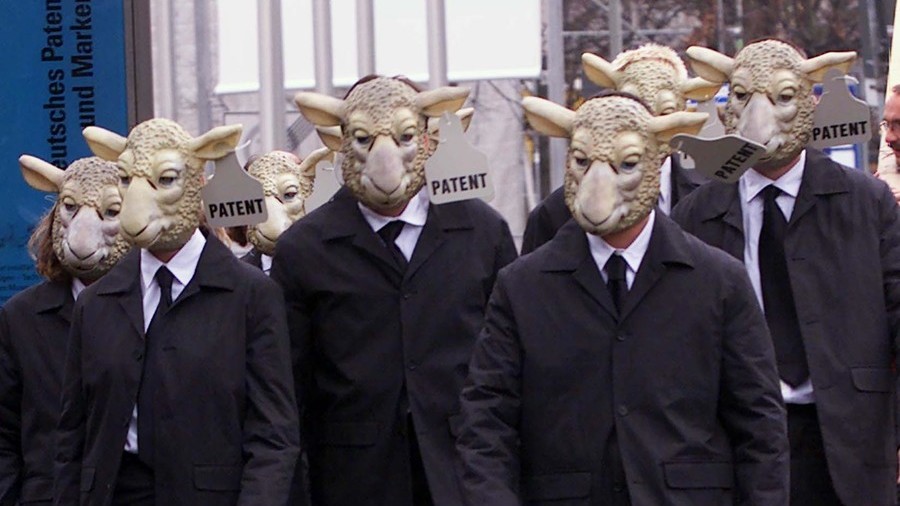 A team of scientists has grown embryos inside a sheep that contain human stem cells, moving the sci-fi idea of developing human organs inside animals one step closer to reality, which has sparked ethical concerns.
The scientific breakthrough could potentially save the lives of thousands of people who are in a dire need of vital organ transplants. While many patients die before they move up to the top of a queue, organs grown inside a sheep, like a pancreas, can not only save a life but also cure a chronic illness such Type 1 Diabetes, the researchers say.
This week, the team from Stanford University was able to grow a sheep embryo injected with adult human stem cells for 28 days, including 21 days inside a sheep, it announced at a meeting of the American Association for the Advancement of Science in Austin, Texas, the Guardian reports. The experiment had to be terminated, as the law prohibits developing cross-species embryos, called chimera, for more than 28 days.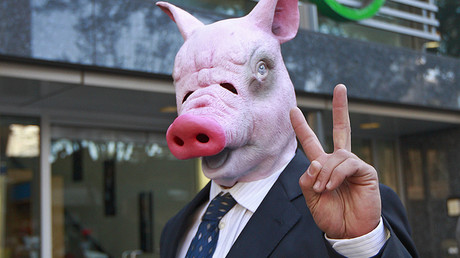 Researchers had already created the first human-pig hybrid.
However, the major difference is that this time they achieved a ten-times higher ratio of human cells to animal cells in an embryo, which is one human cell to about 10,000 sheep cells, according to Dr. Pablo Ross from the University of California.
To create a part-human, part-animal embryo, the researchers use a gene-editing technique. First, they deleted genes needed for developing a certain organ in an animal embryo, then they injected human stem cells, which can become any cell in the body and are supposed to fill the void. In 2010, the Japanese scientists were the first to use this method to create a mouse and rat chimera, where the rat cells were introduced into a mouse to form a missing pancreas.
Last year, the same team that is now working on a sheep embryo, announced that it had, for the most part, cured diabetes in mice after transplanting a mouse pancreas it had grown in a rat.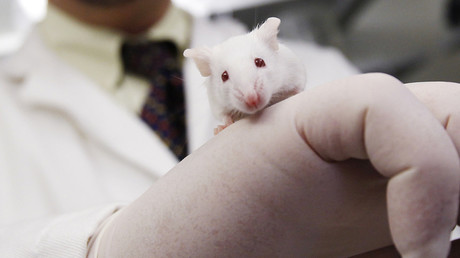 Rat-mouse interspecies transplant brings hope human organs could be grown in animals
There's still a long way to go until this could be possible to replicate on humans, the researchers said. Unlike the rats or mice, both sheep and pigs have organs similar in size to those of a human.
"It could take five years or it could take 10 years but I think eventually we will be able to do this," the study's co-author Hiromitsu Nakauchi of Stanford University said, as cited by the Guardian.
Ross estimated that for the experiment to go forward, at least one percent of an embryo's cells must be human and the time allowed to develop an embryo must be extended. In addition to complex scientific problems that needed to be solved, the work has been plagued by ethical concerns and protests by animal rights activists.
The bulk of their concerns center around the chance a sheep or a pig embryo could become more of a human than desired if human brain cells are accidentally developed. Ross admitted that the scientists have been taking this issue seriously, and if the researchers run into with this problem it may stall the research forever.
"Let's say that if our results indicate that the human cells all go to the brain of the animal, then we may never carry this forward," Ross said, while Nakauchi said he is sure the scientists will be able to isolate the designated region, meaning they won't end up creating a "pig with a human face or human brain."
Animal Farm: Scientists create first pig-human hybrid (PHOTO)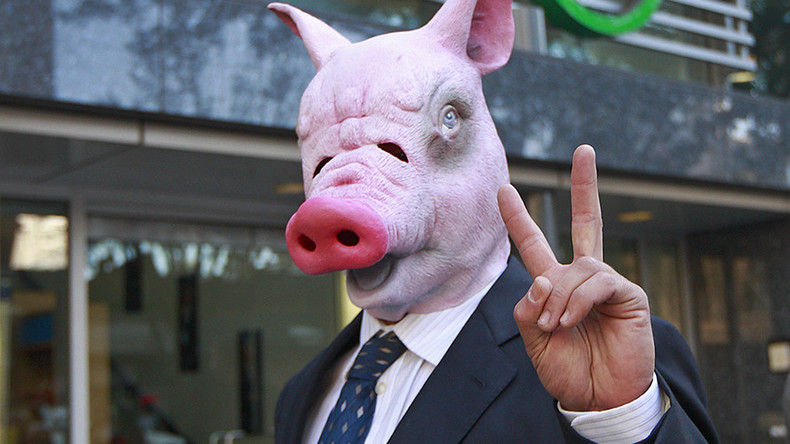 Scientists have created the first human-pig hybrid in a groundbreaking study that marks the first step in growing human organs inside animals.
Named chimera, after the cross-species beast in Greek mythology, the pig-human embryos were created in the Salk Institute for Biological Studies in La Jolla, California and are the first hybrid made using two large, distantly-related species.
"The ultimate goal is to grow functional and transplantable tissue or organs, but we are far away from that," Juan Carlos Izpisua Belmonte, who led the project, said. "This is an important first step."
Human stem cells were injected into young pig embryos, which were then placed in surrogate cows. Of the more than 2,000 embryos, only 186 turned into chimeras – largely pig, with human elements in 1 out of 10,000 cells.
After 28 days of a pig's 112-day pregnancy, the pig-humans were removed as scientists say the embryos had developed enough for them to study in what way the cells mix together "without raising ethical concerns about mature chimeric animals," Izpisua Belmonte said.
As a pig's gestation period of under four months is so much shorter than that of a human, the two species' cells develop at different rates, providing a challenge for future chimera experiments.
Even though a fully developed pig-human being born is a long way away, a chimera with human tissue can be used to study human disease and the differences in organs in differing species.
Despite excitement surrounding the pig-human, concerns have been raised about the ethical implications of mixing human with animal.There is a worry that humanized animals, or animals with human brains could pose a threat to humanity.
"The idea of having an animal being born composing of human cells creates some feelings that need to be addressed,"Belmonte said. "Not everything that science can do we should do. We are not living in a niche lab, we live with other people – and society needs to decide what can be done."
"Our next challenge is to improve efficiency and guide the human cells into forming a particular organ in pigs," he said.