Israel's Netanyahu Acknowledges That He Is Likely to be Indicted Soon
LA TIMES By NOGA TARNOPOLSKY    FEB 08, 2018 | JERUSALEM
Israeli Prime Minister Benjamin Netanyahu remained defiant Thursday in the face of reports — which he acknowledged — that police are expected to recommend his indictment for demanding and receiving gifts from businessmen, including cases of champagne and Cuban cigars, in exchange for personal favors.
Responding to numerous Israeli media reports, Netanyahu posted an angry video to his Facebook page agreeing that the recommendation he be indicted appears imminent.
"Many of you are asking — what will be [in the future]?" the prime minister said. "I want to reassure you, there will be nothing because I know the truth."
Netanyahu laid out a case diminishing the importance of any police recommendations, and over the course of the day cast heavy aspersions on the team investigating him and, most harshly, against the nation's police commissioner, Inspector General Roni Alsheikh.
"According to the law, the only person qualified to determine whether there is evidence against the prime minister is the attorney general," Netanyahu said in the video, "and he discusses the matter with the state attorney…. The state of Israel is a state of law, and the law in Israel says that the person to determine whether there is alleged evidence against the prime minister is the attorney general, and he consults with the state attorney."
On Facebook, Netanyahu, who is known by the nickname Bibi, insisted he wasn't concerned. "No worries," he said sarcastically. "There will be [police] recommendations, there will also be posters saying 'Bibi is guilty until proven otherwise,' and there will be inappropriate pressure, too. But I'm sure that at the end of the day the legal authorities will arrive at one conclusion, at the simple truth: There is nothing."
The police report is expected by Tuesday. Netanyahu is a criminal suspect in two corruption cases.
According to Israeli media reports, the police team investigating Netanyahu, nominally headed by Alsheikh, has concluded that Netanyahu should be indicted for bribery, fraud and breach of trust in "Case 1000," which involves the allegations that Netanyahu and his wife, Sara, inappropriately accepted expensive gifts.
One of the businessmen is believed to be Hollywood producer Arnon Milchan, an Israeli citizen for whom Netanyahu reportedly pressured then-Secretary of State John F. Kerry for a green card.
The police have reportedly not made a firm recommendation regarding "Case 2000," in which Netanyahu is also suspected of having negotiated a quid pro quo with the publisher of Israel's most widely distributed tabloid newspaper. According to recordings held by the police, Netanyahu negotiated for favorable coverage in exchange for a law that would have weakened Israel Hayom, a free daily owned by Las Vegas billionaire Sheldon Adelson.
Netanyahu is a central figure, but not a suspect, in "Case 3000," a police inquiry into Israel's questionable multibillion-dollar procurement of German-made naval vessels and submarines. Numerous close associates, including senior aides and his personal lawyer and cousin, have been questioned or arrested.
In a rare television appearance, Alsheikh, the police chief, said that his senior detectives had been pursued by "private investigators collecting information against police officers involved in ongoing investigations into the prime minister."
"We're not talking about a conspiratorial mind here," Alsheikh said, "these are facts." He said the private investigators had been hired by "powerful figures."
In response, the prime minister uploaded a Facebook post denouncing the police chief, who is a Netanyahu appointee. Netanyahu said he was shocked by the "outlandish and false claim," adding that "every decent person will ask himself how can people saying such outlandish things regarding the prime minister then question him objectively and be impartial when it is time to reach a decision about him?"
"A dark shadow has been cast over the police investigations and recommendations," Netanyahu added, calling for "an immediate and objective inquiry into the matter."
A close Netanyahu ally, governing coalition Chairman David Amsalem, called Alsheikh "smug and full of himself" and said the criminal investigations amounted to "an attempted coup by the police. They see the prime minister as a personal enemy and are trying to topple him."
Gideon Rahat, a Hebrew University professor of political science and an expert on Israeli politics, said in an interview that "Netanyahu's attacks resemble President Trump's against the FBI and [former Italian Prime Minister] Silvio Berlusconi's against the magistrates who investigated him."
Rahat said this sort of condemnation of the police hadn't been seen in Israel since the late 1990s, when Aryeh Deri, who is now the interior minister, was facing trial on corruption charges. He eventually served three years behind bars.
"Of course Rabin resigned over much less," Rahat said. In 1977, then-Prime Minister Yitzhak Rabin resigned when his wife was discovered to have an American bank account, which at the time was not permitted under Israeli law.
Ehud Olmert became Israel's first former prime minister to serve a term in jail when he was convicted in 2014 of fraud and bribery in a real estate case. He served 16 months of a 27-month sentence.
Netanyahu aides recently implied that he is likely to do what none of his predecessors has done: Remain in office even if indicted. Noting that Netanyahu is unlikely to resign "after what happened to Olmert," Rahat said that "by law, he can remain prime minister until he is convicted of a crime, and even then parliament has to vote him out."
Such a circumstance, he added, would cause an unprecedented legal crisis in Israel.
Netanyahu Lashes Out at Israeli Police Chief Amid Reports Detectives Will Recommend He Is Charged With Corruption
As the reports emerged, Israel's police chief, Roni Alseich, went on television and said "very powerful forces" had sent private investigators to "sniff around" in the private lives of detectives investigating the corruption cases.
He did not directly accuse Mr Netanyahu nor did he give details of the claim.
Shortly before midnight on Wednesday, Mr Netanyahu's office published a searing Facebook post questioning whether the police chief and his force could be trusted to carry out an objective investigation.
"It is shocking to discover that the commissioner repeats the false suggestion that Prime Minister Netanyahu has sent private investigators against police officers who are interrogating him," the post said.
"A great shadow was cast this evening on the police investigations and recommendations in the case of Prime Minister Netanyahu."
One of Mr Netanyahu's chief political allies continued the attack on the objectivity of police on Thursday, accusing them of a political plot to bring down the prime minister.
"They see that the prime minister cannot be brought down at the ballot box so they try to bring him down through the Israel Police," said David Ansalem, Mr Netanyahu's chief whip.
Yair Lapid, the leader of a centrist opposition party, called Mr Netanyahu's attack "a desperate act" by a man "who decided to take advantage of his high status in order to threaten the rule of law and to cast blame on the police".
Mr Netanyahu's allies and enemies have waited for months to learn the outcome of the multiple police investigations into the prime minister.
"The sand in the hourglass is running out. Even if it has taken time, the end is nigh. Next week it's going to happen," said Sima Kadmon, a commentator with the Yedioth Ahronoth newspaper.
Mr Netanyahu faces a two-step process. First detectives will decide whether or not to make a recommendation that he should be charged. Prosecutors will then decide whether to move forward with an indictment.
Mr Netanyahu has consistently denied any wrongdoing and insisted he will not resign in the face of the police investigations. But his position may become untenable if he is actually charged with a crime.
Opposition parties are likely to call for his resignation and rivals within Mr Netanyahu's own Likud party may also leap at the chance to unseat a prime minister who has held power for nearly 11 years.
---
AS REPORTED BACK IN DECEMBER:
BYE-BYE BIBI: Israel Braces For "Earth Shattering" Indictments Against Netanyahu; the Rest of the World Waits for Peace on Earth and Good Will to Mankind
Israel Braces For "Earth Shattering" Indictments Against Netanyahu
Dec 27, 2017 1:40 PM
As Israeli police conclude their corruption investigation of Prime Minister Benjamin Netanyahu, former advisor to the force, Lior Chorev, says the indictments to follow will be "earth-shattering" and will result in early elections – possibly as soon as May 2018, which would end the political career of the longest-serving Israeli leader since founding father David Ben-Gurion.
Israel police claims that Chorev, as an external investigator, wouldn't have access to information on the Netanyahu investigation:
 "In these sensitive subjects, the Israel Police is providing information to the public via official statements that are released in accordance with the attorney-general and the state's attorney," the police said. "We are asking the public to focus only on official statement… Not once was the police blamed for leaking information by 'different entities,' but what they said was completely false."
In response to the police wrap-up, Netanyahu's allies in parliament are pushing through a bill that would forbid police from submitting written recommendations to the state prosecutor's office on whether to indict a suspect – in what critics are calling a tool to silence investigators and interfere with police work.
 "It's ludicrous legislation because there's no precedent for legislating those two complementing law enforcement agencies," said Yohanan Plesner, president of the Israel Democracy Institute research center, referring to police and prosecutors. "There's no logic to it unless one wants to create some sort of deterrence vis-a-vis the police." –

Bloomberg
Relations between Netanyahu and police have grown sour throughout the investigations, nearly a year after they became public knowledge. As Bloomberg reports, the prime minister and his supporters have accused police of deliberately leaking information about the investigations to Israeli media, claiming he's the target of an organized campaign by the press and left-wing opponents to unseat him. Thousands of Israelis have taken to the streets in recent weekends, rallying against government corruption and calling on Netanyahu to step down.
Meanwhile, Benjamin Netanyahu's wife, Sara, is mired in three legal disputes; two involving the receipt of illegal gifts and favors from businessmen in exchange for advancing their interests. In another case, Mrs. Netanyahu is accused of fraudulently receiving some $100,000 for her participation in a scam to order meals at Israel's expense without authorization.
 According to a Justice Ministry announcement, between 2010 and 2013, Sara Netanyahu colluded with Seidoff "to create a false impression that the prime minister's official residence on Balfour Street in Jerusalem does not employ a cook, despite the fact that throughout the entire period they employed cooks." This was done, allegedly, to bypass a procedure that forbids ordering meals from restaurants and hiring chefs who cook at the residence when cooks are on hand. –

Jewishpress.com
In a third case, 24 year old Shira Raban claims that Netanyahu incessantly insulted her while she worked for a cleaner at their residence for one month. Raban is seeking $64,000 for "verbal abuse and unreasonable requests" by Sara Netanyahu, and says she feared for her safety. Netanyahu allegedly forbade Raban from eating, drinking or resting, and required that she change her clothes dozens of times per day. Raban claims she was also required to wash her hands about 100 times a day with hot water, drying them on a separate towel from the Netanyahu family. 
Several other former employees have claimed mistreatment by Sara Netanyahu, with one caretaker receiving an award of around $43,000 last year for mistreatment.
Evidence in James Packer's Deposition to Australian Police Implicates Netanyahu in Corruption Scandal; Tens of Thousands Protest as Israeli PM Questioned 6th Time
---

December 2, 2017
JERUSALEM (Reuters) – About 20,000 Israelis demonstrated in Tel Aviv on Saturday against government corruption and Prime Minister Benjamin Netanyahu who is under criminal investigation over allegations of abuse of office.
The demonstration was by far the largest of weekly anti-corruption protests sparked by corruption allegations against Netanyahu, who denies any wrongdoing.
The four-term leader is suspected of involvement in two cases. The first involves receiving gifts from wealthy businessmen and the second involves negotiating a deal with a newspaper owner for better coverage in return for curbs on a rival daily.
Saturday's protest was prompted by a draft law expected to be ratified by parliament next week, which would bar police from publishing its findings in two investigations of Netanyahu.
A Reuters cameraman and Israeli media put the number of demonstrators at about 20,000. Police would not provide an official estimate.
Critics say the draft law is a blatant attempt to protect Netanyahu and keep the public in the dark about his investigation. Supporters of the legislation say it is meant to protect suspects' rights.
Netanyahu has said he has no interest in promoting personal legislation but he has not ordered its two sponsors, close confidants in his Likud party, to withdraw the bill.
Netanyahu has described himself as a victim of a political witch hunt and said of the cases against him: "There will be nothing because there is nothing."
If charged, he would come under heavy pressure to resign or could call an election to test whether he still had a mandate.
---
MAINSTREAM MEDIA SOURCE https://www.theguardian.com/business/2017/dec/01/james-packer-quizzed-by-afp-over-israeli-pm-corruption-investigation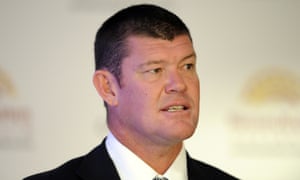 Billionaire James Packer has been questioned by police in Australia over a corruption investigation involving Israeli prime minister Benjamin Netanyahu, who is suspected of receiving luxury gifts from wealthy supporters.
The Australian mogul, who runs the Crown gaming empire and reportedly has a close relationship with Netanyahu, voluntarily attended an interview with the Australian federal police, a police spokesman said on Friday, without specifying when it took place.
"Mr Packer participated in the interview on a voluntary basis as a witness for an investigation being conducted by Israeli authorities," the spokesman said.
Packer, who recently split up with American singer Mariah Carey, was not suspected of criminal conduct in either Israel or Australia, he added.
Netanyahu has so far been questioned six times over two alleged cases of corruption.
One of those whom he is accused of accepting gifts from is Israeli businessman and Hollywood producer Arnon Milchan, a Packer business partner who reportedly sent boxes of expensive cigars and other items worth tens of thousands of dollars.
Israeli media has said police were looking at whether Packer split the cost of gifts with Milchan.
The second affair over which Netanyahu has faced police questioning involves suspicions he sought a secret deal for favourable coverage with the publisher of top-selling Israeli daily Yediot Aharonot.
Netanyahu has consistently denied any wrongdoing and says he has been the target of a campaign by political opponents.
---
SOURCE https://www.middleeastmonitor.com/20170830-israel-questions-pms-billionaire-friend-over-corruption-charges/
Israel questions PM's billionaire friend over corruption charges
August 30, 2017 at 4:06 pm
Israeli police are to fly to London today to question billionaire businessman Len Blavatnik in relation to corruption charges facing Israeli Prime Minister Benjamin Netanyahu, according to Haaretz.
The Soviet-born media investor will primarily be questioned as to whether Netanyahu was involved in the sale of a television channel in 2015 to Arnon Mozes, publisher of Israeli daily Yedioth Ahronoth, as part of "Case 2000". It is alleged that Netanyahu tried to negotiate a deal with Mozes, offering legislation that would impede the activities of Mozes' rival paper, Israel Hayom, in return for more favourable media coverage of the prime minister and his policies.
Police further suspect that in return for curbing Israel Hayom, Mozes offered to hire journalists recommended by Netanyahu to undermine rival politicians.
Blavatnik is suspected to have also played a part in a proposed deal where he would have bought a stake in Yedioth, although the purchase did not take place.
Read: Israeli court sees possible graft charges in cases involving Netanyahu
However, Blavatnik's testimony may also prove useful in regards to another corruption caseNetanyahu is currently embroiled in, dubbed "Case 1000", which alleges that the prime minister accepted illegal gifts from businessmen. Police will question whether Netanyahu aided in the sale of Israeli Channel 10 to Blavatnik, and whether this served the interests of minority stakeholder Arnon Milchan, whom it is believed was one of the businessmen who sent the gifts, assumed to be a bribe.
Netanyahu has already been questioned in regards to Case 1000 but if Blavatnik's testimony confirms police suspicions, the case against him would strengthen.
The prime minister was also recently involved in a third fraud case, as Israeli police continue to investigate a $2 billion deal to buy submarines in which Netanyahu's personal lawyer and cousin also represented the local agent of the German manufacturer. Netanyahu, who is not under investigation in the case, has given his lawyer his full support.
Netanyahu is not the first Israeli leader to face criminal investigation; in 2014 former Prime Minister Ehud Olmert was convicted of breach of trust and bribery. Ariel Sharon was also questioned during his term in office over allegations of bribery and illegal campaign financing.
---
SOURCE https://www.middleeastmonitor.com/20171120-israeli-pm-questioned-for-6th-time-in-corruption-probe/
Israeli PM questioned for 6th time in corruption probe
Israeli Prime Minister Benjamin Netanyahu has been questioned by Israeli police for the sixth time since being named as a suspect last year amid allegations of corruption.
Netanyahu, who was reportedly grilled for four hours on Sunday, responded on Twitter.
"I say in absolute confidence: there will be nothing because there is nothing," the prime minister tweeted Sunday night.
In a statement, the Israeli police said Netanyahu had been interrogated for "several hours" in his Jerusalem residence.
The statement, however, did not provide any more details about the ongoing investigation.
Read More: Corruption in Israel is not just an Israeli issue
Since last year, Netanyahu has been the subject of a criminal investigation in two separate corruption cases. He has repeatedly denied any wrongdoing.
The first case involves Hollywood producer Arnon Milchan, who was allegedly asked to purchase luxury items for Netanyahu and his wife.
The second case relates to allegations that Netanyahu struck a deal for more favourable media coverage with Arnon Mozes, publisher of popular Hebrew-language newspaper Yedioth Ahronoth.
Netanyahu's wife, Sara, was also questioned by police regarding earlier corruption allegations.
Sara stands accused of receiving "lavish and inappropriate" gifts from wealthy businessmen and paying bribes to a media mogul in return for favorable coverage.
She, too, has been questioned within the context of an ongoing investigation into accusations that Netanyahu used state funds for personal expenditures.
---
SOURCE https://www.middleeastmonitor.com/20170802-israel-police-to-grill-pms-wife-over-graft-allegations/
Israel police to grill PM's wife over graft allegations
August 2, 2017 at 9:15 pm
The wife of Israeli Prime Minister Benjamin Netanyahu will be questioned by police on Wednesday amid allegations of corruption, Israeli daily The Jerusalem Post has reported.
Sara Netanyahu stands accused of receiving "lavish and inappropriate" gifts from wealthy businessmen and paying bribes to a media mogul in return for favourable coverage.
Police have also launched a separate fraud investigation following accusations that Mrs Netanyahu had dipped into state funds to make personal expenditures.
In January, the prime minister's wife provided court testimony related to the first charge.
Read: Another corruption scandal embroils Netanyahu
The Israeli government, meanwhile, has banned all media coverage of the ongoing police investigations.
The prime minister himself has also come under fire amid a raft of graft allegations and has been questioned by police on three separate occasions so far this year.
Vociferously denying the allegations, Netanyahu has accused certain Israeli media organizations of attempting to "overthrow" his Likud-led government.