RELATED
On the HIGHWAY TO HELL: Exploring the PIZZAGATE / PEDOGATE / PEDOWOOD Connection to the GETTY CENTER
(Article and Video Compendium)
See how this early winter storm coated the South in a rare snow
By Angela Fritz December 8 at 10:56 AM
Southerners woke up to a magical sight Friday morning — snow, from Texas to Alabama. Even Brownsville, the city farthest south in the Lone Star State, got in on the action early Friday morning.
More than 100,000 customers lost power in the South as the heavy snow brought down branches and power lines. It's the same storm that's cranking up to bring as much as a foot of snow to the Mid-Atlantic and Northeast.
Snowfall reports are accumulating in Houston, and the meteorologists at Space City Weather are approximating anywhere from a coating to 2 inches of snow in the Houston area. With road crews ill-prepared to deal with snow and ice, roadways were slick Friday morning, leading to several accidents.
Space City Weather's Matt Lanza estimated that the storm will rank in the top 10 to 15 on record for Houston, though the snowfall totals in College Station — about 95 miles northwest of Houston — were more impressive.
"Obviously, College Station did quite well last night," Lanza said in a post Friday morning. "They received 5 [inches] officially, which would rank it their second biggest snow on record."
Between this and Hurricane Harvey, Texas has certainly seen its share of extreme weather this year.
Even residents of Corpus Christi, the South Texas city along the Gulf Coast, saw four inches of snowfall — their first since 2004 — and thundersnow was reported in Brownsville.
The storm was pushing east Friday morning, and areas from Louisiana to western North Carolina were already seeing heavy, wet snow by 10 a.m., which will continue through most of the day. Thundersnow was reported in Louisiana, and five inches of snow had already accumulated in Jackson, Miss.
In Atlanta, traffic snarled before the snow even started. Big, fat snowflakes were falling at the Weather Channel headquarters in Cobb County, just north of Atlanta, early Friday afternoon. Traffic maps showed congestion ramping up along the downtown connector and the Interstate 285 perimeter.
Rain will gradually turn to snow in the Southeast and Mid-Atlantic on Friday, spreading north to New Jersey and Pennsylvania on Friday night.
Aerial view of the south side of Corpus Christi this morning, via @kiii3news facebook page. #txwx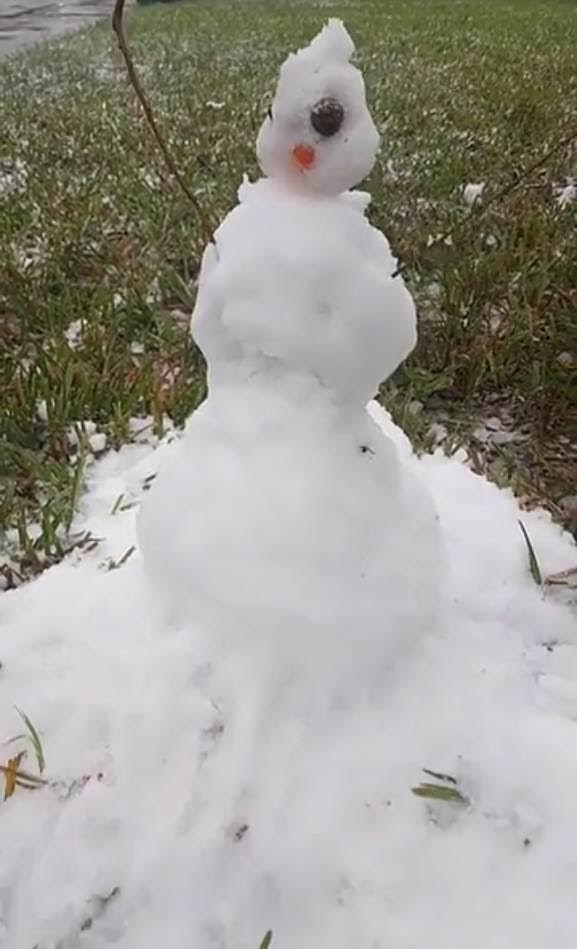 Frosty the Snowman makes an appearance…in Brownsville, Texas! Photo credit: US Customs and Border Protection
My mom sent me these pictures from Spring, Texas! @NWSHouston It's so beautiful, and Zoey's first snow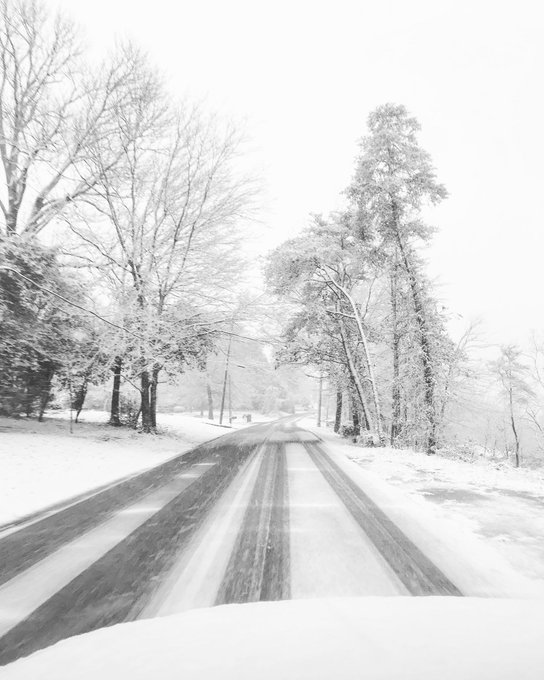 @spann Winter Wonderland up here in Bluff Park! It's still coming down.
It's Gonna Snow Right Here in Dixie
"It's Gonna Snow Right Here in Dixie" is a song written for the Rankin/Bass Christmas special The Year Without A Santa Claus. It is sung by the mayor of Southtown after Jingle Bells and Jangle Bellssay that they'll get it to snow in his city in order to convince him to release the reindeer Vixen from the dog pound.
Music by:    Maury Laws
Lyrics by:    Jules Bass   1974
Mayor: It's gonna snow, ho, ho, right here in Dixie
All will be white overnight
It will be cold
On Christmas day, hey, hey
Right here in Dixie
We'll do-si-do in the snow
So I've been told
Children: We'll build a snowman
Our very first
Take down the straw-man
And bundle up our winter's worst
Mayor: It's gonna snow, ho, ho, right here in Dixie
All will be white overnight
It will be cold
All: It will be cold
On Christmas day, hey, hey
Right here in Dixie
Mayor: We'll do-si-do in the snow
So we've been told