---

December 2, 2017
JERUSALEM (Reuters) – About 20,000 Israelis demonstrated in Tel Aviv on Saturday against government corruption and Prime Minister Benjamin Netanyahu who is under criminal investigation over allegations of abuse of office.
The demonstration was by far the largest of weekly anti-corruption protests sparked by corruption allegations against Netanyahu, who denies any wrongdoing.
The four-term leader is suspected of involvement in two cases. The first involves receiving gifts from wealthy businessmen and the second involves negotiating a deal with a newspaper owner for better coverage in return for curbs on a rival daily.
Saturday's protest was prompted by a draft law expected to be ratified by parliament next week, which would bar police from publishing its findings in two investigations of Netanyahu.
A Reuters cameraman and Israeli media put the number of demonstrators at about 20,000. Police would not provide an official estimate.
Critics say the draft law is a blatant attempt to protect Netanyahu and keep the public in the dark about his investigation. Supporters of the legislation say it is meant to protect suspects' rights.
Netanyahu has said he has no interest in promoting personal legislation but he has not ordered its two sponsors, close confidants in his Likud party, to withdraw the bill.
Netanyahu has described himself as a victim of a political witch hunt and said of the cases against him: "There will be nothing because there is nothing."
If charged, he would come under heavy pressure to resign or could call an election to test whether he still had a mandate.
---
MAINSTREAM MEDIA SOURCE https://www.theguardian.com/business/2017/dec/01/james-packer-quizzed-by-afp-over-israeli-pm-corruption-investigation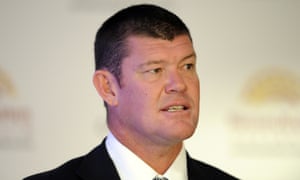 Billionaire James Packer has been questioned by police in Australia over a corruption investigation involving Israeli prime minister Benjamin Netanyahu, who is suspected of receiving luxury gifts from wealthy supporters.
The Australian mogul, who runs the Crown gaming empire and reportedly has a close relationship with Netanyahu, voluntarily attended an interview with the Australian federal police, a police spokesman said on Friday, without specifying when it took place.
"Mr Packer participated in the interview on a voluntary basis as a witness for an investigation being conducted by Israeli authorities," the spokesman said.
Packer, who recently split up with American singer Mariah Carey, was not suspected of criminal conduct in either Israel or Australia, he added.
Netanyahu has so far been questioned six times over two alleged cases of corruption.
One of those whom he is accused of accepting gifts from is Israeli businessman and Hollywood producer Arnon Milchan, a Packer business partner who reportedly sent boxes of expensive cigars and other items worth tens of thousands of dollars.
Israeli media has said police were looking at whether Packer split the cost of gifts with Milchan.
The second affair over which Netanyahu has faced police questioning involves suspicions he sought a secret deal for favourable coverage with the publisher of top-selling Israeli daily Yediot Aharonot.
Netanyahu has consistently denied any wrongdoing and says he has been the target of a campaign by political opponents.
---
SOURCE https://www.middleeastmonitor.com/20170830-israel-questions-pms-billionaire-friend-over-corruption-charges/
Israel questions PM's billionaire friend over corruption charges
August 30, 2017 at 4:06 pm
Israeli police are to fly to London today to question billionaire businessman Len Blavatnik in relation to corruption charges facing Israeli Prime Minister Benjamin Netanyahu, according to Haaretz.
The Soviet-born media investor will primarily be questioned as to whether Netanyahu was involved in the sale of a television channel in 2015 to Arnon Mozes, publisher of Israeli daily Yedioth Ahronoth, as part of "Case 2000". It is alleged that Netanyahu tried to negotiate a deal with Mozes, offering legislation that would impede the activities of Mozes' rival paper, Israel Hayom, in return for more favourable media coverage of the prime minister and his policies.
Police further suspect that in return for curbing Israel Hayom, Mozes offered to hire journalists recommended by Netanyahu to undermine rival politicians.
Blavatnik is suspected to have also played a part in a proposed deal where he would have bought a stake in Yedioth, although the purchase did not take place.
Read: Israeli court sees possible graft charges in cases involving Netanyahu
However, Blavatnik's testimony may also prove useful in regards to another corruption caseNetanyahu is currently embroiled in, dubbed "Case 1000", which alleges that the prime minister accepted illegal gifts from businessmen. Police will question whether Netanyahu aided in the sale of Israeli Channel 10 to Blavatnik, and whether this served the interests of minority stakeholder Arnon Milchan, whom it is believed was one of the businessmen who sent the gifts, assumed to be a bribe.
Netanyahu has already been questioned in regards to Case 1000 but if Blavatnik's testimony confirms police suspicions, the case against him would strengthen.
The prime minister was also recently involved in a third fraud case, as Israeli police continue to investigate a $2 billion deal to buy submarines in which Netanyahu's personal lawyer and cousin also represented the local agent of the German manufacturer. Netanyahu, who is not under investigation in the case, has given his lawyer his full support.
Netanyahu is not the first Israeli leader to face criminal investigation; in 2014 former Prime Minister Ehud Olmert was convicted of breach of trust and bribery. Ariel Sharon was also questioned during his term in office over allegations of bribery and illegal campaign financing.
---
SOURCE https://www.middleeastmonitor.com/20171120-israeli-pm-questioned-for-6th-time-in-corruption-probe/
Israeli PM questioned for 6th time in corruption probe
Israeli Prime Minister Benjamin Netanyahu has been questioned by Israeli police for the sixth time since being named as a suspect last year amid allegations of corruption.
Netanyahu, who was reportedly grilled for four hours on Sunday, responded on Twitter.
"I say in absolute confidence: there will be nothing because there is nothing," the prime minister tweeted Sunday night.
In a statement, the Israeli police said Netanyahu had been interrogated for "several hours" in his Jerusalem residence.
The statement, however, did not provide any more details about the ongoing investigation.
Read More: Corruption in Israel is not just an Israeli issue
Since last year, Netanyahu has been the subject of a criminal investigation in two separate corruption cases. He has repeatedly denied any wrongdoing.
The first case involves Hollywood producer Arnon Milchan, who was allegedly asked to purchase luxury items for Netanyahu and his wife.
The second case relates to allegations that Netanyahu struck a deal for more favourable media coverage with Arnon Mozes, publisher of popular Hebrew-language newspaper Yedioth Ahronoth.
Netanyahu's wife, Sara, was also questioned by police regarding earlier corruption allegations.
Sara stands accused of receiving "lavish and inappropriate" gifts from wealthy businessmen and paying bribes to a media mogul in return for favorable coverage.
She, too, has been questioned within the context of an ongoing investigation into accusations that Netanyahu used state funds for personal expenditures.
---
SOURCE https://www.middleeastmonitor.com/20170802-israel-police-to-grill-pms-wife-over-graft-allegations/
Israel police to grill PM's wife over graft allegations
August 2, 2017 at 9:15 pm
The wife of Israeli Prime Minister Benjamin Netanyahu will be questioned by police on Wednesday amid allegations of corruption, Israeli daily The Jerusalem Post has reported.
Sara Netanyahu stands accused of receiving "lavish and inappropriate" gifts from wealthy businessmen and paying bribes to a media mogul in return for favourable coverage.
Police have also launched a separate fraud investigation following accusations that Mrs Netanyahu had dipped into state funds to make personal expenditures.
In January, the prime minister's wife provided court testimony related to the first charge.
Read: Another corruption scandal embroils Netanyahu
The Israeli government, meanwhile, has banned all media coverage of the ongoing police investigations.
The prime minister himself has also come under fire amid a raft of graft allegations and has been questioned by police on three separate occasions so far this year.
Vociferously denying the allegations, Netanyahu has accused certain Israeli media organizations of attempting to "overthrow" his Likud-led government.